Fujikura is one of the world's leading manufacturers of fibre optic cables and equipment for installation, measurement and testing.
The Fujikura name has become synonymous with fibre optic fusion splicers and the company has become the world's leading supplier to telecommunication companies around the globe.
Fusion Splicers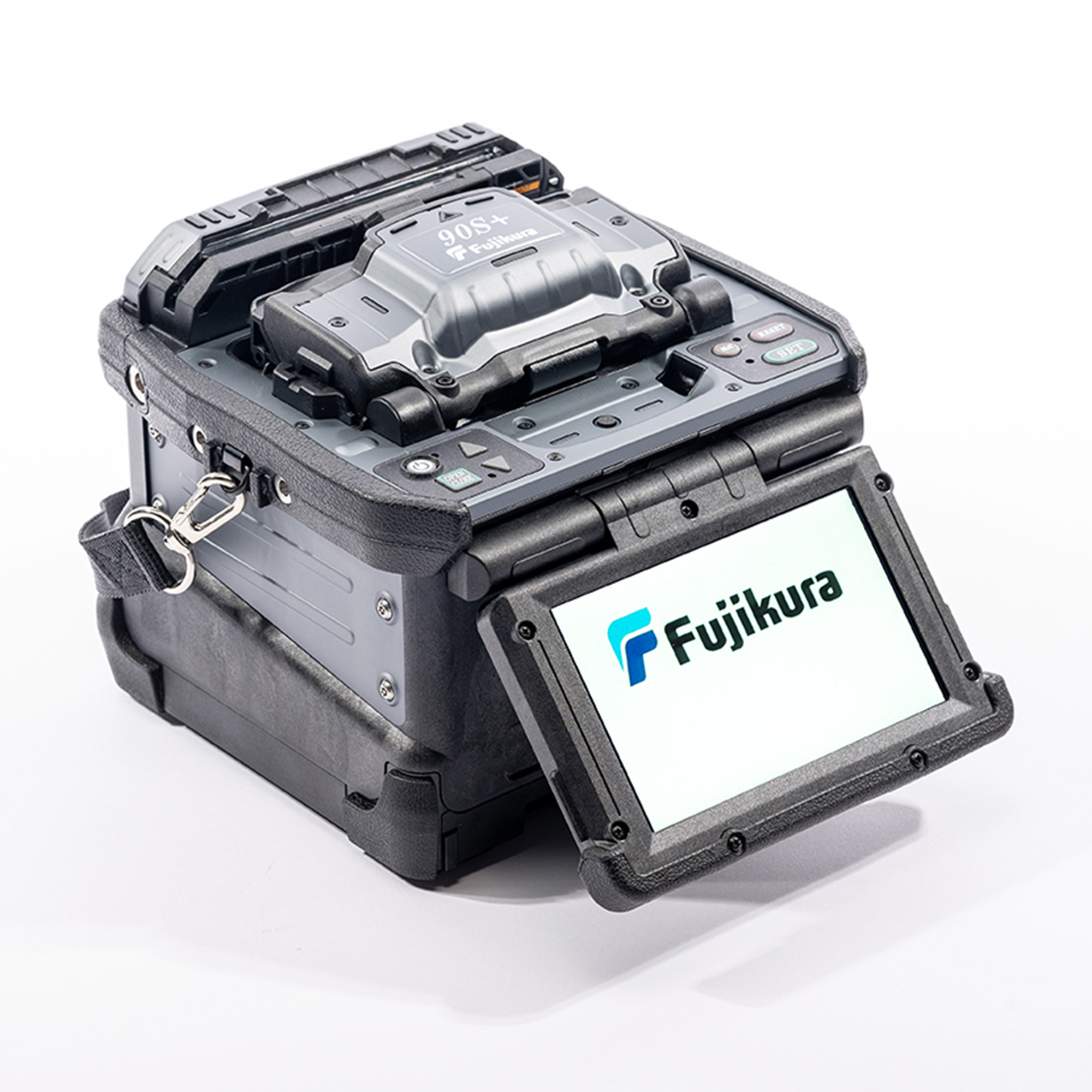 The 90S+ is a single fibre core alignment fusion splicer setting a new standard in the market for fusion splicing. The 90S+ is packed with a whole host of new and enhanced features specifically developed with the objective of enabling the user to work faster with higher precision.
Overall splice process time has been significantly reduced against our previous model (70S+). This has been achieved with a combination of improvements to the reaction time of the automated wind protectors and automated heater, new fibre retention clamps, improved universal sheath clamps and a redesigned internal structure that matches the protection sleeve to the fusion splice point which enables splicing to be achieved without the need of the user to touch the 90S+ once the process has started.
Features:
Active Fusion Control Technology (AFCT) – combining real-time fusion control with the cleave end-face analysis to determine the correct arc power to complete the splice.
Market leading high precision and accurate core alignment technology with advanced image processing technology
Improved automatic wind protector design which reduces overall splice time but can also be used in manual style
High capacity lithium-ion battery (up to 300 splices)
Patented easy splice protector positioning system
Universal sheath clamps for standard 250 um fibre but also 900 um loose tube fibre types.
Fibre Retention clamps
Enabled with Fujikura's unique "Active Blade Management Technology" with new capability to link up to 2 CT50 cleavers simultaneously.
A completely redesigned multi-function carry case and workstation
Tool-less replaceable electrodes
Touch screen
The 41S+ is active cladding alignment single fibre V-groove splicer, which takes a step beyond its predecessor with the inclusion of Active Fusion Control Technology and Active Blade Management Technology. These two proprietary technologies allow customers to achieve more consistent and stable low-loss splicing, reducing the need for rework and re-splicing.
The 41S+ retains all the unique, class-leading features from the current high-performance flagship line-up of Fujikura splicers, including quick splice and heat times, fully ruggedized features, and user customizable settings. The 41S+ offers installers the convenience of a 5″ colour touch-panel display and menu system but also maintains the traditional easy-to-use button navigation system. Convenience is further bolstered by the improved v-groove illumination and the benefit of easy splice protector positioning. The machine reassures users of reliable splice results using CORE loss estimation using Warm Image Splicing Technology.
Thanks to integrated Bluetooth connectivity, the 41S+ wirelessly connects to the CT50 fibre cleaver and enables a range of pioneering features that will improve the overall installation time, cost and efficiency for operators. The 41S+ also has the unique capability to estimate splice loss with greater accuracy, using its Core Loss Estimation Function.
The issue of poor fibre cleaving due to worn, incorrectly adjusted or damaged cleaver blades is conveniently dealt with. When the 41S+ detects a high cleave angle or bad end shape, it sends a blade position change instruction to the cleaver. The CT50 cleaver then rotates the cleaver blade automatically to the next position, restoring optimum cleaving performance.
By utilising the low radio power of Bluetooth technology, other equipment nearby will not be interfered with. Operators can benefit from the "always on" technology due to the low power consumption of the Bluetooth, which means that batteries can last for several months. In addition to cleave performance, the smart splicer can also wirelessly monitor the battery and power usage of the CT50 cleaver.
As the latest addition to the Fujikura splicing family, the 41S+ is flexible, smart and efficient and is therefore capable of making a huge difference to efficiency of users. The easy-to-handle and operate qualities of this splicer means quick and simple splicing, with performance never being compromised.
Features:
Active Fusion Control Technology
One of main causes of high splice loss is bad cleave end face quality. The 41S+ analyses the condition of both L and R cleave end faces and applies optimal fusion control. This new technology improves splice loss significantly and greatly reduces the need for rework.
Because fusion is easily affected by changes in the environment, the 41S+ uses real-time fusion parameter control by analysing the fibre brightness intensity during splicing. This contributes to stable, low-loss splice results.
Active Blade Management Technology
The 41S+ and CT50 fibre cleaver are equipped with wireless data connectivity, which allows automatic cleaver blade rotation when the 41S+ judges the blade is worn. The 41S+ displays the remaining blade life and informs the user when a blade height change, blade position change, or new blade is required.
 Enhanced splice quality
When the frequency of large cleave angle or other cleave problems increases, Active Blade Management Technology can detect this increasing ratio of poor cleaves and rotate the blade position automatically. Active Blade Management Technology therefore significantly reduces the frequency of poor quality cleaves. Even when a poor cleave is detected, the 41S+ compensates by using Active Fusion Control Technology to apply optimized fusion to reduce the incidence of high splice loss. By using these two key technologies together, the 41S+ minimizes the occurrence of high splice loss and greatly reduces the need for rework and re-splicing.
 User friendly
The 41S+ can accommodate splice sleeves with a diameter of up to 6.0mm, so it supports a wide range of protection sleeve sizes.
The 41S+ electrodes comes as an assembly including electrode mounting fixture and thumb screw. The thumb screw is easily loosened or tightened by hand without tools, which makes it simple to replace electrodes.
The CT50 fiber cleaver has a user replaceable blade and rubber clamps – there's no need to send the device to a service centre for blade or clamp replacement.
The 90R12 is a mass fusion splicer capable of splicing up to 12 fiber ribbon cables simultaneously
In previous mass fusion splicer models, the v-grooves could become dirty over time due to debris and glass deposits from splicing accumulating in the v-grooves. Which in turn, could lead to fibre offsets and high losses if they were not regularly cleaned which added to the overall process time.
The 90R12 comes with a first of its kind, innovative user replaceable V-groove assembly which makes this issue a thing of the past and is supplied as standard equipment with the 90R12 kit. This new V-groove assembly can be quickly and easily fitted in the field, minimizing downtime and maximising productivity.
In addition, the new V-groove design enables splicing of both conventional type 12-fiber encapsulated ribbon and SWR (Spider Web Ribbon) whilst also accommodating 250um and 200um pitch fibers.  The 90R12 can also splice single fibers if required.
Overall working time has been significantly reduced against the previous model (70R+). This has been achieved through a combination of improvements; including the replaceable v-grooves, reaction time of the automated wind protectors and automated heater, a 5-inch LCD touch screen whilst also making use of Active Blade Management Technology, which now can connect to two CT50 cleavers simultaneously.
Features:
Class-leading, highly reliable, 12-fiber ribbon splicing technology.
Replaceable V-grooves minimize downtime and maximize productivity.
An improved automatic wind protector design reduces overall splice time but can also be used manually like a traditional machine.
High capacity lithium-ion battery provides up to 165 x 12 fiber splices and heat shrinks.
An extensive range of fibre holders make the 90R12 compatible with single fibres, standard encapsulated ribbons as well as Spider Web Ribbon types.
Pitch Converter system enables splicing of both 200um and 250um single fibers.
A completely redesigned, larger capacity carry case and multi-functional work-tray.
Enabled with Fujikura's unique "Active Blade Management Technology" with new capability to link up to two CT50 cleavers simultaneously.
Tool-less replaceable electrodes.
5-inch LCD touch screen.
Fusion Splicer Accessories
The CT08 is future-proofed cleaving solutions designed for easy integration into existing splicing processes. The CT08 can also dramatically reduce handling time and maintenance costs for customers. 
Features:
Dedicated for single fibre cleaving
Replacement of fibre clamps and cleaving blade by user
No tool necessary for blade rotation
Widely lever opening makes easy fibre placing
Simple and single-step operation
The CT50 provides enhanced drop and impact resistance and allows customers like never before to replace the actual cleaving blade and resin members that hold the optical fibres, dramatically reducing handling time and maintenance costs. With the ability to cleave single fibres and bundles of up to 12 fibres, the CT50 is Bluetooth enabled, smart phone ready, and can be easily integrated into existing splicing processes for customers looking to invest in a future-proof cleaving solution.
Features:
Highly robust
Automatic blade rotation via wireless communication
User replaceable blade and fibre clamps
One-action operation – including fibre scrap collection
Easy fibre positioning
Tool-less blade rotation
The FID-30R includes an optical power meter and succeeds the FID-25R while the FID-31R, the updated standard model, replaces the FID-26R. The fibre identifiers, used for identifying the light power presence in optical fibres, include three detecting functions: TONE, TRAFFIC, and ONU.
Both models include a trigger operated clamp to macro-bend the fibre in order to leak light which is then detected by two photo sensors. The fibre identifiers can detect the presence of several kinds of light signal and indicate signal directions.
The trigger lock function ensures the fibre is clamped with constant pressure, while the 2.4″ colour LCD touch panel, equipped with a backlight function, allows the user to view the estimated optical power in the fibre and select the desired wavelength of 1310nm, 1490nm, or 1550nm. Identification of modulated tones at 270Hz, 1kHz and 2kHz is provided, along with continuous wave and ONU signals. Users are also able to select from three detection sensitivity modes; normal, fast and fine.
Other features of the battery operated FID30R/FID31R include robust body design, easy-to-use fibre clamp, status indicator and adjustable settings for result retaining, buzzer volume, backlight brightness, auto dimming and auto power off.
The fibre identifiers can be used for UV-coated fibre, 0.9mm diameter tight buffered fibre, fibre cord up to 3mm in diameter, and fibre ribbon with up to 12 fibres.
Features:
Robust body design for the field
Universal fiber clamp design applicable for many types of fibers
2.4″ full color LCD touch screen with the backlight
Trigger lock function for continuous fiber clamping
Adjustable setting
Connector head for power meter is interchangeable
Firmware update via internet